Best practice management software for accountants
Manage your firm's operations, clients and staff with CoraCloud's all-in-one practice management.
CoraCloud's practice management software is affordable for any accounting or CPA firm regardless of firm size or number of users.
CoraCloud's Differentiating Approach
Your success is our success. That's why your account includes:
All CoraCloud's client-centric features
Complementary onboarding services
Free trial
24/7 support
256-bit encryption
Benefits of Implementing Practice Management
Enjoy the benefits of what CoraCloud's practice management has to offer:
Increased productivity

Reduced stress

Improved staff & client relationships

Greater profitability

& much more!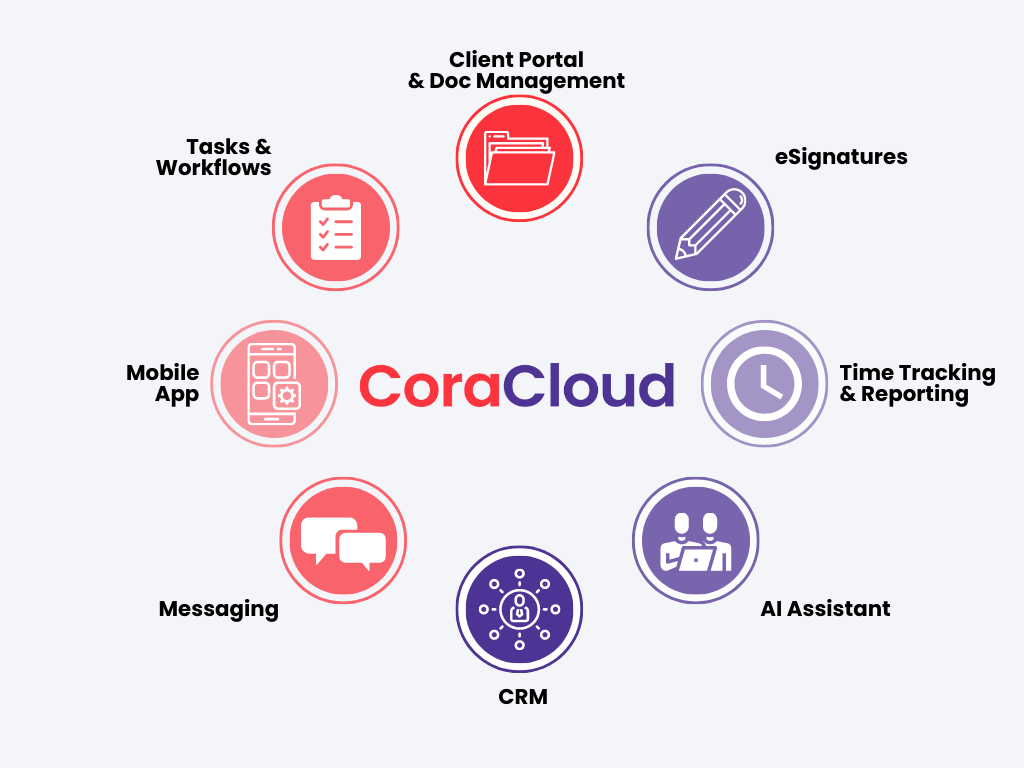 Hours
Saved A Week Per Employee
$
Recovered in Billing Opportunities
Accounting Practice Management Features
Take advantage of CoraCloud's all-in-one accounting practice management approach to keep clients, documents, eSignatures and tasks in one location!

"Our office has been using CoraCloud for nearly a year and we have found it has changed the way we do things daily.
For our tax clients we have an internal folder to store their documents and an external folder to allow clients to send their tax documents to us in a secure format as well as allowing us to send their tax return to them and an electronic signature request.
CoraCloud has made such a difference in our day to day operations we would not want to imagine doing business without it."
-Phil Quinton, Phil's Bookkeeping & Tax Service LLC
Break free with practice management
An ultimate guide to transform your firm from reactive to proactive.