The Revolutionary Software For Accounting and Business Management

FOR IMMEDIATE RELEASE Contact: Sharissa Barnett
Head of Marketing
CoralTree, Inc.
sharissa@coraltreetech.com
408.217.2458 Ext.121

𝑹𝒆𝒇𝒓𝒆𝒔𝒉𝒊𝒏𝒈𝒍𝒚 𝑺𝒊𝒎𝒑𝒍𝒆! 𝑨𝒍𝒍-𝑰𝒏-𝑶𝒏𝒆 𝑺𝒐𝒇𝒕𝒘𝒂𝒓𝒆 𝒇𝒐𝒓 𝑨𝒄𝒄𝒐𝒖𝒏𝒕𝒂𝒏𝒕𝒔 𝒂𝒏𝒅 𝑩𝒖𝒔𝒊𝒏𝒆𝒔𝒔 𝑶𝒘𝒏𝒆𝒓𝒔
Introducing Basil: Revolutionary Software For Accounting and Business Management
CoralTree is proud to announce the launch of its new all-in-one cloud product designed to replace outdated "single function" apps and save business owners time and money. Basil includes highly innovative features with an elegant UI and is priced for affordability at just $30 per month.
Basil was designed by our team of experts as the cure for "app overload" that many modern businesses face. We understand the pain of constant context-switching between disparate tools. By combining frequently used features into one application, Basil empowers organizations to cut through the noise and boost workplace productivity. Basil is the only all-in-one cloud platform that offers a comprehensive suite of accounting and business management tools at an affordable price.
Key Features include:
Client Portal - Secure, password-protected file storage and an intuitive portal that makes it easy for clients to collaborate. Email links directly to clients so they don't have to worry about remembering another password.
Tasks & Workflows - Track tasks and projects with an easy-to-use workflow tool. Automatically remind clients about incomplete tasks.
Unlimited eSignatures - Electronically sign unlimited documents with eSignatures and KBA as recommended by the IRS.
Time Tracking & Reports - Track billable hours for tasks and share reports with clients. Never miss billing opportunities.
Chat - Chat with team members and clients in real-time to collaborate on projects.
CRM - Centralized database to store all client information and quickly access client data, notes, and project history.
Email - Accountants are empowered to streamline their communication workflow by effortlessly syncing their Gmail and Outlook email accounts with Basil's practice management software.
Email "templates" - Create professional and customized email templates to simplify your email correspondence. Reply to emails using your templates or bulk send emails for important tax reminders.
Calendar - Never miss a deadline or task again! Basil's calendar was built to efficiently schedule client meetings, set reminders for important deadlines, and allocate time for critical tasks.
Forms - Create custom forms tailored to your practice's needs for efficiently gathering client information, whether it's for onboarding new clients or administering tax questionnaires.
Billing - Create personalized bills directly from tasks, projects, and fixed items like software subscriptions – all with the ease of a few clicks.
QuickBooks Online integration - Seamlessly integrate QuickBooks Online with Basil so you can sync clients, service items, and send bills to QuickBooks Online for payment.
Charts - Visualizations provide insights into billable hours, staff performance, project status, and more.
Document Editing - Edit, collaborate, and track versions of documents all within the platform.
Mobile App - Upload files, sign documents, and get notifications on the go with our mobile app.
White-Label Support - Brand the software as your own with a custom logo and colors.
Security - 256-bit encryption and secure AWS storage means your data is protected by bank-level security.
Onboarding & Support - Complimentary onboarding services and 24/7 support to ensure your success.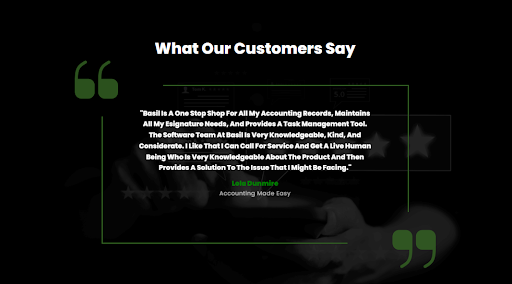 "Basil is a one-stop shop for all my accounting records, maintains all my eSignature needs, and provides a task management tool. The software team at Basil is very knowledgeable, kind, and considerate," said Lola Dunmire of Accounting Made Easy. "I like that I can call for service and get a live human being who is very knowledgeable about the product and then provides a solution to the issue that I might be facing."
Basil is flexible and customizable to meet the diverse needs of numerous businesses in many industries. Whether you're a small startup or a large corporation, Basil provides the features your team needs to collaborate and get work done efficiently.
Robust security protocols and advanced encryption give professionals peace of mind that their data is safeguarded at all times. The cloud-based solution ensures team members can securely access files and collaborate from any location with an internet connection. Availability isn't limited to the office - professionals can work productively from home, client sites or on the go.
Basil offers a complimentary demo and a 15-day free trial to experience the platform firsthand. Our world-class support team will also guide you through onboarding and provide 24/7 support.
With budget-friendly monthly pricing starting at just $30, Basil delivers exceptional value without the hassle of managing multiple apps and subscriptions. To get started with a free trial, visit us at getbasil.app to sign up for a free trial of Basil today and see how it can help you streamline your workflows and boost your productivity.
###
For more information contact Head of Marketing, Sharissa Barnett at sharissa@coraltreetech.com or 408.217.2458 Ext.121.
Stay connected by following us on social media for updates and more information: