The Role of Technology in Accounting Business Development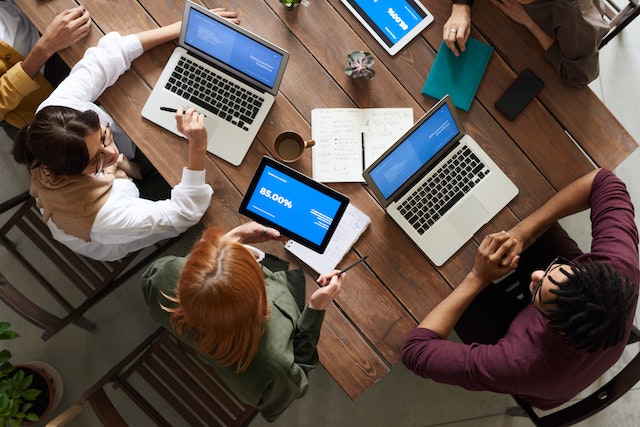 Accounting Business Development

Tips and Trends for Accounting Firms: Boosting Productivity with Basil Practice Management
With the ever-evolving financial industry regulations, it is critical that accounting firms seek innovative means of maintaining an edge over the competition while driving profitability. In order to flourish in this new digital age while ensuring optimal operational performance for clients' benefit; adopting tailor-made business development strategies for accounting firms geared towards fostering efficiency and maximum client satisfaction is indispensable.
Let's delve into innovative ideas, actionable strategies, and industry insights that will empower you on how to grow accounting practice and to flourish in a competitive market. As a thought leader in the industry, CoralTree Tech is proud to introduce CoraCloud practice management, a powerful cloud collaboration software designed to simplify your firm's operations and boost productivity.
The Importance of

Business Development for Accounting Firms
Accounting business development is heavily reliant on cpa business development. Central to this is the identification of fresh opportunities, fostering existing client relationships, and implementing strategies that maximize profits. Accounting professionals facing heightened competition ought to prioritize taking proactive steps that distinguish their services and enhance their ability to provide top-notch client experiences.
By adopting effective business development practices, accounting firms can:
Enhance client acquisition and retention rates
Achieving success in the accounting business development industry depends heavily on recognizing who comprises your ideal demographic audience as well as creating a compelling value statement targeting this particular group.
Comprehending common problems or issues encountered within their everyday operations leads you towards creating specific marketing tactics that resonate closely with them and are personally targeted at attracting new business from them.
Ensuring the delivery of excellent customer service experiences combined with consistent communication channels and the delivery of supplemental solutions contributes significantly to encouraging client loyalty as well as sustained business partnerships built around trust and reliability, resulting in mutually profitable outcomes for all involved.
Expand service offerings
A proven strategy for drawing in fresh clientele and growing revenue streams, i.e., business development for accountants, is to broaden the array of services that your firm provides. Carrying out market research could help determine new trends and customer needs, along with areas with promising prospects in your particular niche.
Invest in staff training and accounting business development programs. Your organization's capacity to deliver exceptional services rests heavily on ensuring that personnel possess the requisite skill sets needed for successful outcomes. Importantly, articulate how such programs cater to the intrinsic benefits accrued by clients as well as their linkage with the firm's core competencies. This is a strategic move guaranteed to grow business opportunities for both new and existing clients alike!
Stay ahead of industry trends
Accountants must proactively seek opportunities to enhance their skills and knowledge. Attend industry conferences, participate in webinars, and engage with professional associations to stay updated on the latest developments.
Stay informed about software advancements, automation tools, and cloud-based solutions that can streamline your operations and improve efficiency. For example, implementing Basil Practice Management by CoralTree enables accounting firms to embrace a one-stop solution for collaboration, document management, and electronic signatures. Embracing such innovative tools not only boosts productivity but also positions your firm as a forward-thinking industry leader.
Key

Accounting Business Development

Strategies for Firms
How to Grow Your Accounting Practice
To achieve growth in your accounting practice, it is crucial to integrate both conventional and contemporary approaches in accounting business development. By incorporating effective tactics, you can further propel your firm's development progress. Some recommendations include:
Identify and target your niche: Try centering your efforts around serving a targeted sector like business development or exclusively catering to one type of client, such as accountants. By doing so, you'll strengthen your level of expertise in that focused area, attracting clients who are seeking acclaimed guidance for their specialized accounting needs.
Build a strong online presence
Your accounting company needs to build an exceptional website. Stay active on social media platforms and produce compelling content that captivates audiences and enhances brand awareness.
Leverage the power of referrals
Educate your accountants on emphasizing satisfied clients and spreading the news about the quality of services received from you. Additionally, you could set up a referral program with enticing rewards that further strengthen customer loyalty while also attracting new prospects.
Invest in continuous education
To uphold your reputation as a competent expert in your field, make sure to commit to ongoing educational pursuits. This dedication supports staying current on critical industry regulations, tax laws, and accounting standards. With your enhanced knowledge base from continuous professional development opportunities comes the ability to provide dependable guidance to clients.
Accounting Business Development

Strategies for Consulting Firms
Consulting firms within the accounting industry can adopt specific strategies to achieve business development goals:
Develop strategic partnerships: Try to collaborate with complimentary service providers, such as legal firms or business consultants, to offer comprehensive solutions to clients.
Establish yourself as a respected authority in your field by taking steps toward thought leadership: Utilize article writing to share industry insights while also contributing content to established publications. Participating in conference speaking events also provides an opportunity for showcasing knowledge and expertise.
Offer value-added services: To build long-lasting relationships with clients, it's important to continually find ways of adding value beyond what they may expect from traditional engagements. Identifying gaps in their needs and addressing them with added service offerings is one way of doing this effectively.
Introducing Basil Practice Management by CoralTree, Inc.
At CoralTree we recognize the distinct difficulties facing accounting companies as they undertake efforts to grow their businesses and elevate productivity levels. This is precisely why we've created Basil practice management: a thorough cloud-based collaboration software intentionally crafted to cater to the precise requirements of accounting professionals.
For any growing accounting firm seeking to boost its productivity while staying on budget. Look no further than Basil Practice Management – a solution built upon the principles of affordability, efficiency and simplicity. With its intuitive user interface and a broad range of powerful features at your disposal – from secure document storage to unlimited eSignatures – addressing your firm's workflow challenges has never been more straightforward.
So why not let Basil help your team communicate seamlessly? Or unlock new efficiencies through its centralized document storage capabilities? Consider this dynamic practice management tool a one-stop solution for all your accounting firms' workflow needs.
Let's explore the key benefits and features that make Basil an indispensable tool for business development accountants:
Affordable and Cost-Effective
To achieve a thriving accounting practice. It is essential to exercise discernment with expenditures. That's why at Basil, we have developed a pricing system that enables you to remain agile while ensuring affordability. Our adaptable cloud-based software solution can fit your budget. Say goodbye to costly infrastructure and maintenance expenses with our dependable platform.
Effortless Collaboration
Basil's straightforward interface facilitates seamless collaboration within the team and with external stakeholders. A range of features, including file sharing and real-time progress tracking, enable efficient workflows while ensuring there are no communication gaps.
Bank-Level Security
As an esteemed provider in the accounting industry, our top priority at Basil is maintaining the privacy of sensitive client information. We understand the seriousness of this responsibility and leverage powerful security methods like encryption, secure data centers, and routine backups to fully protect your valuable information from unauthorized access.
Branded Client Portals
Our branded client portals are excellent tools that allow us to achieve both seamlessly by providing quick access to documents and reports while being highly secure during communications with team members or feedback sessions. Get creative using this innovative feature today!
Built-in eSignature Solution
With Basil's amazing built-in eSignature solution, say goodbye to all the tedium that comes with manual paperwork tasks such as prolonged approval processes that bring headaches galore. You will never slow your enterprise down again because our top-notch platform provides an efficient way for getting countless electronic signatures collected in record time; this streamlines the entire document signing process, which automatically translates into faster delivery times and an enhanced customer experience.
As thought leaders in the industry, Basil aims to empower accounting firms with the tools they need to thrive in a competitive market.
Bottomline: Unlocking Growth Potential with Basil Practice Management
In today's fast-paced financial landscape, accounting firms must embrace business development strategies to drive growth and remain competitive. By implementing effective tactics such as niche targeting, online presence building, and strategic partnerships, accounting professionals can unlock new opportunities for expansion.
Leveraging innovative tools like Basil Practice Management from CoralTree allows accounting firms to enhance productivity, streamline collaboration, and improve client satisfaction. With its affordability, efficiency, and simplicity, Basil empowers accounting professionals to focus on what they do best, providing exceptional financial services.
Discover the power of Basil Practice Management today and take your accounting firm to new heights. Experience the benefits of seamless communication, secure document management, and unlimited electronic signatures—a testimony to practice management made simple.
Remember, the success of your accounting firm lies in your ability to adapt to industry trends, embrace technology, and continuously seek ways to deliver exceptional value to your clients. With CoralTree as your trusted partner, you can confidently navigate the evolving landscape and lead your firm toward a prosperous future. Contact us now!